6 things you didn't know about Emily Arthur
21 April 2017
SNOWBOARD: After her first taste of Olympic glory at the Youth Winter Olympic Games last year, Emily Arthur has her sights firmly set on qualifying for her debut Games at PyeongChang 2018.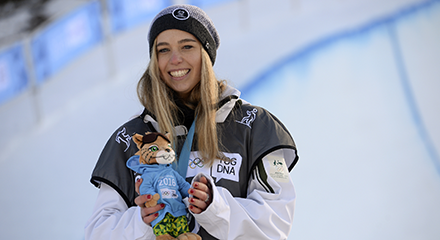 The now 18-year-old, who won silver in the women's snowboard halfpipe and placed 15th in the snowboard slopestyle at Lillehammer 2016, finished the 2016/17 World Cup season ranked 19th in the world in women's halfpipe.
Here are six things you probably didn't know about the rider from Woronora Heights in NSW taking the snowboard world by storm:
1. I'm convinced that if my Interschools race in 2005 wasn't cancelled, I would be a ski racer and never would have swapped to snowboarding
(Interschools 2008)
2. Easter is by far my favourite holiday, followed by Valentines Day because they both involve chocolate. But also my best memories as a kid were when my whole family would go away for the Easter holidays, either camping or to a beach house in Sussex Inlet.
(My cousins and me on Easter, which conveniently one year was my birthday)
3. On my first ever snowboard trip away from my family (aged 9), our Christmas tree caught on fire on Christmas Eve and all our presents got burned - Christmas certainly was lit that year.
4. I got my first magazine article when I was nine, and my dad was there for the interview and told the journalist that I had a crush on Robbie Walker (my fav snowboarder at the time) which got published and I'm still traumatised.
5. At the Youth Olympics I had the privilege of being the Australian Flag Bearer for the Closing Ceremony. Although after the quick 5-minute tutorial before we went on stage, I still managed to get the flag tangled around the pole
6. When I compete, and even when I'm just riding, I listen to music on full with both headphones in and sing (evidently really loud), which makes sense as I apparently used to get up with my cousin at family dinners and "perform" as we called it… embarrassingly this happened in public spaces too.
(My cousin and I singing 'Barbie Girl' at a crowded restaurant in the City)
Emily Arthur